"An insightful compendium of techniques
for spelling bee preparation and competition ...
An invaluable guide for the serious competitive speller."

— James Maguire, author,
American Bee: The National Spelling Bee
and the Culture of Word Nerds




Comprehensive yet concise, A CHAMPION'S GUIDE TO SUCCESS IN SPELLING BEES is essential for any spelling bee contestant, whether serious or casual, as well as for study assistants such as parents, teachers, and tutors.

By following this guidebook's tactics and strategies, you will use every available resource – including but not limited to your time on stage, your existing knowledge, other study materials, and the effort that you will invest throughout your preparation – as effectively and efficiently as possible.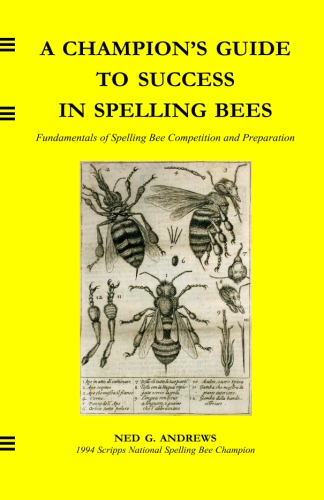 INSIDE A CHAMPION'S GUIDE
TO SUCCESS IN SPELLING BEES:
COMPETITION
The questions:
What they are and what they do for you


At the microphone:
When to ask what – and when to move on and spell



Includes step-by-step flowchart for word analysis



Dealing with stress
THE SKILLS OF SUCCESSFUL SPELLERS
PREPARATION
Is a long-term commitment for you?


Making the most of your time and resources



Finding words:
A starting point for study


The "spelling notebook":
What to do with words once you find them


"The coaching question"

THE ROLE OF CHANCE AND LUCK